Mattress Felt is manufactured by using a blend of all types of textile recycled materials , polyester
fibers and other fibers, which is mechanically bonded as well as thermo bonded .
Types of Mattress Felts
Hard felt
This is used as a reinforcement layer on springs directly , to protect top layer from spring cage . It also helps in dividing the load uniformly across the complete mattress .


---
Medium-hard felt
These are used between top layer and hard felt. It acts as shock absorber between the spring cage and top layer . It can also be used to increase the over all thickness & make the product more economical.


---

Soft Felt
This type of felt used as reinforce felt in order to prevent the cracking of re-bonded foam, also increase softness, durability and provide more luxury to the mattress
---
Quilting Felt
These are lighter Gsm felts used in quilting as a replacement of nonwoven fabric in order to make the mattress more breathable & strong.

---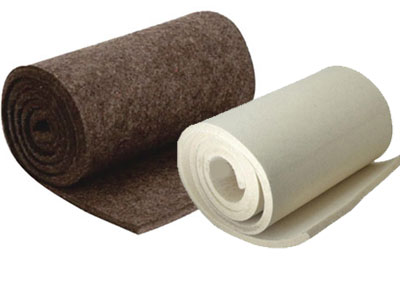 Woollen Felt
These are made up of wool used in quilting for increasing warmth in a mattress in colder regions